Archives for March 2002
Article by
http://atypicalife.net/blog/2002/03/30/
I made my own peeps! hint: It's a bunny.


See more here.
Article by
http://atypicalife.net/blog/2002/03/26/
I am Super Mommy today, I tell ya. Emma and I are bathed, the girls are checking each otehr's Math workbooks, addison has disapeared to his room for the morning, and I am just about done on-line (56 mnutes). I checked half of my "sometimes" blogs, too. Need to update my links list.
I also need to do an About me page, and I was thinking (uh-oh)… Could you regulars (or sometimes people) send me via email or comments a little snippet about me? Like a mini review. All I can promise is a link back. 🙂
You know you love me.
Article by
http://atypicalife.net/blog/2002/03/25/
Man, I love the Fraggles.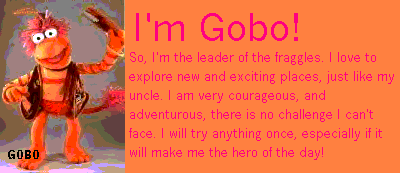 So, which Fraggle ARE YOU most like? Click here to find out.
Article by
http://atypicalife.net/blog/2002/03/25/
Okay, I'm cheating a little on the Sensibilities… The question is: Close your eyes. Inhale deeply. What do you smell? What do you wish you were smelling?
Hmm…. *sniff* Well, last night (that's the cheating part) all I could smell was fresh ginger. We had it in some stir fried chinese cabbage, as well at the main dish. It reminds me of happy meals and Christmas. A few mintues ago I could smell dip and potato chips. What a healthy breakfast.
What do I wish I could smell? My grandmother up close. But I guess I will have to satisfy myself with going up to the attic, opening one of the boxes with her things, and inhaling her favorite sweater. Darn, I miss her.
Whoa, didn't mean to be such a downer on such a sunny day!
Article by
Ron still can't believe we lingered over dinner for an hour and a half.
We had a table by the window, in the fancy restaurant. With a view of the frozen river, snow blowing by like waves, and the sunset going down over the bridge. Ron had the three cheese manicotti with the house salad, and I had lasagna and caesar salad. The dressing on my salad was decidedly from scratch, not from a bottle. We even sprang for dessert, which was New York cheesecake. Apparently, this means just regular cheesecake with fancy raspberry and chocolate sauce swirled nicely on the plate.
I hope you're meant to eat the swirls. It was really good, even if the whole meal cost the two of us what it would normally cost all of us to go to a regular diner type eatery.
Ron had asked me to pick out his clothes, and I chose his Regis suit, which was a grey tweed-like double breasted, with silky steel grey shirt and matching tie. The pants were wrinkled and I don't have an iron anymore, so there was a bit of panic. We hung them in the bathroom while Ron got cleaned up, and the steam worked! He even shaved the sides of his face.
I wore a nice rayon floral dress, black with small pink and cream roses. Short sleeves, sweetheart neckline, and lace-ups in the back. I even did my hair, pulling it back with some butterfly clips. My black pantyhose in the drawer turned out to belong to the girls. I raided their stash, and finally found a pair that fit and didn't have runs. Good thing Mom had given us a whole bag of assorted hosiery. Nope, no makeup.
When we came downstairs, Addison took one look at us and said, "Hey, you guys look, like, nice and stuff." Shows you how often we go all out.
We left all the kids at Mom's house, even Emma. On the way over, I said to Ron that the first thing Mom would ask was if I wanted to borrow her dress coat. She didn't disappoint me. After dinner, we stopped off at our house partly because I was freezing. Heels are not made for snow. We called Mom's and Emma was fine, so we lingered in our quiet empty place, enjoying each other for a nice change.
We talked about few things. One thing we realized, in looking forward, is that we aren't limited anymore. We can do pretty much anything and not have to worry about animals or the wood stove or space. Our biggest goal is to pay off the house early. Then we'll work on some overseas traveling. He did tease me some, when I said things like, "Now is where you would tell me how nice I look", he'd say, "Yep."
It was three hours in total that we left Emma, and she did great. Of course, it was a good time of the evening, before she started whining for bed. Mom's really good at feeding people, and Emma ate and drank lots. When we came in, she was wandering around chugging back on her sippy cup.
This morning we woke up to a quiet house and had a quiet morning getting ready for church, rather than the circus we normally are. This afternoon, we are back to normal.