Archives for Monday, March 25, 2002
Man, I love the Fraggles.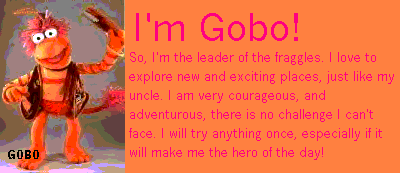 So, which Fraggle ARE YOU most like? Click here to find out.
Okay, I'm cheating a little on the Sensibilities… The question is: Close your eyes. Inhale deeply. What do you smell? What do you wish you were smelling?
Hmm…. *sniff* Well, last night (that's the cheating part) all I could smell was fresh ginger. We had it in some stir fried chinese cabbage, as well at the main dish. It reminds me of happy meals and Christmas. A few mintues ago I could smell dip and potato chips. What a healthy breakfast.
What do I wish I could smell? My grandmother up close. But I guess I will have to satisfy myself with going up to the attic, opening one of the boxes with her things, and inhaling her favorite sweater. Darn, I miss her.
Whoa, didn't mean to be such a downer on such a sunny day!